Meet Rita – DollsWalls miniset
Welcome to DollsWalls Pet Shop. Come visit Ruth and all the magnificent animals in her shop. You might even leave the store with your next pet. It's  only your imagination that sets the limits for what happens ih the Pet Shop. Have you seen the counter also is an aquarium? Look through the magic lens in our app and find out what's going on in the store today.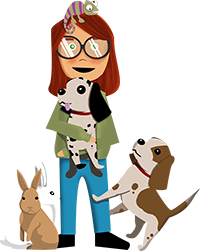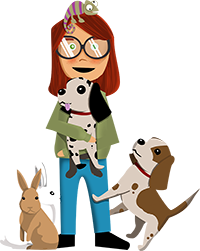 INCLUDE YOUR OTHER TOYS IN YOUR PLAY WITH DOLLSWALLS PET SHOP
The Pet Shop includes interior, pets and the doll Ruth. Your child can use their other toys as a part of the play, there are no rules. It is important to us, that children are offered the chance to use their imagination when playing. That's why we try to set a minimal of guides on how to play with DollsWalls.DollsWalls is versatile toys for kids. The play is different each time and the childs imagination is at work, and is a great toy for parents to join in on the fun. Smaller children might need a hand in assembling the different sets.
Additional information
Weight
0.5 kg
Indhold

8 decorative walls for the pet shop
Fence for dog pen
Ruth, the Pet Shop owner
2 dogs
1 cat
2 bunnies
1 parrot
DollsWalls giver mange forskellige muligheder for kreativ leg. Vi har både en Home og en City serie, hvor børnene kan bygge deres helt eget hus, by, gågade eller shoppingcenter. Byggesættene byder på timevis af leg, fordi der er uendelige muligheder for design og sammensætninger af farver og former. Vi har udviklet konceptet fra dengang vi selv byggede dukkehuse af vores VHS-kassetter. Vores materialer er alle godkendte og sikre og indeholder ingen skadelige stoffer. Vi sikrer altså ikke kun kreativ leg, men kreativ leg af den allerbedste kvalitet.. 

Vi ønsker at gøre det let og tilgængeligt for børn at være kreative. Derfor udvider vi hele tiden vores sortiment med flere muligheder for fornyelse af dukkehusene. Vi vil give børnene mulighed for at bygge deres egen verden, og fordybe sig i de kreative processer, der indgår i at bygge et hus eller en hel by. Børnene har rig mulighed for selv at mixe og matche de eksisterende sæt, og skabe deres helt eget dukkehus, som kan fornyes og bygges om alle de gange, barnet ønsker.