The beauty salon is open for business and it's time for pampering.
The elements are designed in a way that makes it easy to assemble and disassemble. Is it a nail salon or maybe a hairdresser? There are no limits to what your child can create with this beauty salon. There is room for free play and creative expressions with dolls, furniture and much more. When you use our app to look through the Magic Lens, you can see what is happening in the salon today.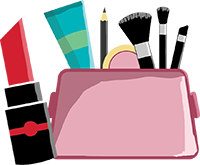 Create your own Beauty Salon
With this building set, you get your very own beauty salon. The building sets are suitable for girls 5-10-year-olds. We have created the framework, but your child creates the content of the play themselves. The walls from the different building sets can be combined with walls from other building sets, so the possibilities for new and fun games are endless. You can create things together, but your child can easily play by themselves. With augmented reality, the building sets are brought to life, and in each set different things happen when you use the Magic Lens in our app.
Additional information
Weight
1.3 kg
Indhold

8 walls for creating the beauty salon
Sophie, owner of the beauty salon
1 beauty couch
1 sink for hairwashing
1 hair washing chair
1 chair for waiting customers
1 shop sign
Your child probably has many different interests, which can easily be combined with different building sets. The beauty salon is just one of the many building kits that you will find in our universe. The dollhouses have different designs and themes, so there are lots of exciting houses to choose from. No matter what your child is interested in, we definitely have a kit that will please your child. Maybe the beauty salon is just the thing?