Ciao and welcome to DollsWalls pizzeria! This set gives your child the opportunity to create their own restaurent, where Chef Toni serves delicious pizzas and pasta to his happy customers. Here's room for creativity and hours of play, it will never get boring. Look through the Magic Lens in our app and see what Chef Toni is making.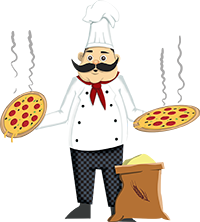 CREATIVE TOYS - BUILD YOUR OWN PIZZERIA
DollsWalls pizzeria building kit, gives your child the opportunity to design their own pizzeria. Help Chef Toni decorate the restaurent. Use the app to see what happens when you look through the  magic lens.The set includes accessories and Chef Toni, but you can easily use other toys as part of the game as well.That's the smart thing about DollsWalls. Your child kan easily assemble and disassemble the building sets. We've created the basic frame and elements for the game, but it's up to your child to give the stories life, using their creativity and imagination. The different sets can be combined freely.
Additional information
Weight
1.3 kg
Indhold

8 walls for creating your pizzeria
Chef Toni
1 counter
3 delicious pizzas
1 awning
2 dining tables
CREATIVE TOYS WITH INFINITE POSSIBILITIES
A pizzeria, a salon or maybe an ice cream shop? We have many different building sets with exciting themes that your child will definitely love to play with. Children often have many different interests that they enjoy combining. With DollsWalls dollhouses it is possible to create fun games with the different building sets.
Creative toys are the ideal girl toys for 5-10 year old children who want to build their own houses for their dolls. For many children, the best games are about creating something for themselves. Here the framework for the play is especially important, because this is where your child can build his own worlds, where the games can unfold. With us, you will only find toys that contribute to creativity and free play. We do not want to set limits for your child. Therefore, you will find many fun sets that develop your child's creativity.