Ciao og welcome to DollsWalls pizzeria!
This set gives your child the opportunity to create their own restaurent, where Chef Toni serves delicious pizzas and pasta to his happy customers. Here's room for creativity and hours of play, it will never get boring.
Look through the magic lens in our app and see what Chef Toni is making.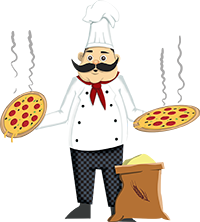 CREATIVE TOYS - BUILD YOUR OWN PIZZERIA
DollsWalls pizzeria building kit, gives your child the opportunity to design their own pizzeria. Help Chef Toni decorate the restaurent. Use the app to see what happens when you look through the  magic lens.The set includes accessories and Chef Toni, but you can easily use other toys as part of the game as well.That's the smart thing about DollsWalls. Your child kan easily assemble and disassemble the building sets. We've created the basic frame and elements for the game, but it's up to your child to give the stories life, using their creativity and imagination. The different sets can be combined freely.
Additional information
Weight
1.3 kg
Indhold

8 walls for creating your pizzeria
Chef Toni
1 counter
3 delicious pizzas
1 awning
2 dining tables
[/et_pb_column][/et_pb_row]
KREATIVT LEGETØJ MED UENDELIGE MULIGHEDER
Et pizzeria, en salon eller måske en is butik? Vi har mange forskellige byggesæt med spændende temaer, som dit barn helt sikkert vil elske at lege med. Børn har ofte mange forskellige interesser, som de nyder at kombinere. Med DollsWalls dukkehusene er det muligt at skabe sjove lege med de forskellige byggesæt, .
Kreativt legetøj er det ideelle pigelegetøj til 5-10-årige børn, der gerne vil bygge deres egne huse til sine dukker. For mange børn handler de bedste lege om at skabe noget selv. Her er rammerne for legen særligt vigtig, for det er her dit barn kan bygge sine egne verdener, hvor legene kan udfolde sig. Hos os finder du kun legetøj, der bidrager til kreativitet og fri leg. Vi ønsker ikke at sætte begrænsninger for dit barn. Derfor finder du mange sjove sæt, der udvikler dit barns kreativitet.