The ice cream shop is open for business!
Is there anything better than a delicious ice cream with friends on a hot summer day? With this DollsWalls set your child can easily create their own ice cream shop.
The ice cream shop is a part of our City series, which also includes a beauty salon, a pizzeria and a Pet shop. The City series lets your child create their own city, shopping center or whatever their creativity desires.
Look through the magic lens in our app and see what is going on in the ice cream shop today.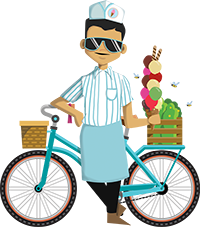 AN ICE CREAM SHOP CREATED FROM IMAGINATION
Who wouldn't love to have their own ice cream shop? DollsWalls Ice Cream shop lets you build a shop using your imagination and creativity. You can combine all the sets from Dollswalls. All sets include different interior and dolls, which can be used in the play. you can also include other toys in the play, why not invite a teddy bear out for ice cream?With the building sets from DollsWalls, there are no limits, that's the beauty of creative building sets. You can assemble it any way you want, and will inspire your child to many hours of play.
Additional information
Weight
1.3 kg
Indhold

8 walls for creating the ice cream shop
David, owner of the ice cream shop
1 ice cream counter
3 bikes
2 dining tables
1 outdoor sign
[/et_pb_column][/et_pb_row]
Vores kreative byggesæt er det perfekte legetøj for piger i alderen 5-10 år. At børnene får lov til at skabe noget helt selv, er ofte er dét, der gør leg spændende for børn.et fordrer også børnenes kreative og logiske tænkning selv at skabe rammerne for deres leg. Vi ønsker at skabe et godt fundament for kreativ leg, og tilføre en sund blanding af leg og elektronik, der giver legen et ekstra lag. DollsWalls byggesættene giver uendelige muligheder med vores specielle samlingsteknik, som gør at børnene kan blande fra alle vores serier, og skabe lige den verden, de drømmer om.
De tilhørende dukker og interiør er med til at give væggene og husene liv, men det sætter bestemt ikke grænser for, hvad børnene ellers kan bruge for at gøre legen levende.
DollsWalls sættene er lette at skille ad og tage med på ferie eller besøg hos venner, og de fylder minimalt, når de er pakket sammen.