The ice cream shop is open for business! Is there anything better than a delicious ice cream with friends on a hot summer day? With this DollsWalls set your child can easily create their own ice cream shop. The ice cream shop is a part of our City series, which also includes a beauty salon, a pizzeria and a Pet shop. The City series lets your child create their own city, shopping center or whatever their creativity desires. Look through the Magic Lens in our app and see what is going on in the ice cream shop today.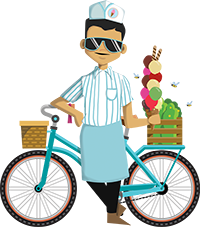 AN ICE CREAM SHOP CREATED FROM IMAGINATION
Who wouldn't love to have their own ice cream shop? DollsWalls Ice Cream shop lets you build a shop using your imagination and creativity. You can combine all the sets from Dollswalls. All sets include different interior and dolls, which can be used in the play. you can also include other toys in the play, why not invite a teddy bear out for ice cream?With the building sets from DollsWalls, there are no limits, that's the beauty of creative building sets. You can assemble it any way you want, and will inspire your child to many hours of play.
Additional information
Weight
1.3 kg
Indhold

8 walls for creating the ice cream shop
David, owner of the ice cream shop
1 ice cream counter
3 bikes
2 dining tables
1 outdoor sign
Our creative building set is the perfect toy for girls aged 5-10 years. Creating something is often what makes play exciting for children. It also requires the children's creative and logical thinking to create the framework for their play. We want to create a good foundation for creative play, and add a healthy mix of play and electronics that give the game an extra layer. 
The DollsWalls sets are easy to disassemble and bring on holiday or visiting friends, and they take up minimal space when you store them.