Welcome to DollsWalls Kitchen!
This is where Karla, May and Ida prepare the most tasteful meals in the world. It doesn't matter if it is a vegetarian pizza to Chico the Croco or a handful of tasty donuts, the stove and oven are constantly at work. You can build this set in many different ways, and move the dining table around, that way you can serve breakfast by the window, and later serve lunch in a totally different place. You can also combine this set with all the other Home or City series sets. Look through the Magic Lens in our app and find out what Karla is serving for breakfast.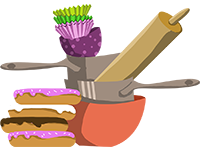 Analog toys with a twist
DollsWalls is a new version of the dollhouse, as we know it. DollsWalls gives your child a creative outlet where they can play imaginary roleplay for hours. First step is building the house as they like it, then it's time to play! By using the Magic Lens in our app, you can incorporate Augmented Reality in your play. Hold the Magic Lens over the DollsWalls set and see what happens.
Additional information
Weight
1.3 kg
Indhold

8 walls for creating the kitchen
Karla
1 dinnertable
1 kitchen table with sink
1 kitchen table with stove
[/et_pb_row]
[/et_pb_column]
All our paper based products are FSC certified. This means that, as trees are felled to produce our products, they are replaced with seedlings that eventually grow into mature trees. That way we support a sustainable forest system, that protects the fauna and flora of our planet.
We are focused on minimizing the use of excess packaging, paper and plastic in our production and product line. That is why you won't find the products wrapped in plastic or even an instructions booklet. All guides and other information is available on our website and in the app.
All materials used in DollsWalls are recycable. This applies to both the cardboard and the plastic.