Welcome to DollsWalls Kitchen! This is where Karla, May and Ida prepare the most tasteful meals in the world. It doesn't matter if it is a vegetarian pizza to Chico the Croco or a handful of tasty donuts, the stove and oven are constantly at work. You can build this set in many different ways, and move the dining table around, that way you can serve breakfast by the window, and later serve lunch in a totally different place. You can also combine this set with all the other Home or City series sets. Look through the Magic Lens in our app and find out what Karla is serving for breakfast.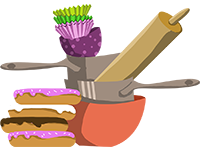 Analog toys with a twist
DollsWalls is a new version of the dollhouse, as we know it. DollsWalls gives your child a creative outlet where they can play imaginary roleplay for hours. First step is building the house as they like it, then it's time to play! By using the Magic Lens in our app, you can incorporate Augmented Reality in your play. Hold the Magic Lens over the DollsWalls set and see what happens.
Additional information
Weight
1.3 kg
Indhold

8 walls for creating the kitchen
Karla
1 dinnertable
1 kitchen table with sink
1 kitchen table with stove
Sustainable and safe toys
At DollsWalls we want to take care of our planet and environment, therefore our toys are safe and the packaging is made of environmentally friendly materials of high quality. It consists of FSC approved cardboard and plastic in high quality. All our materials are approved for children's toys and are produced in Denmark. Thereby you are sure of high quality and proper working conditions at the supplier. You are thus guaranteed both sustainable and safe toys for your child.
Your child can play with DollsWalls alone or with siblings, parents or friends. It is also a fun project for family time. DollsWalls can be combined with other toys and give your child plenty of opportunities to create a world and characters out of imagination. There are endless possibilities for play.
Our sustainable and safe toys are based on the idea of ​​playing and building with imagination. Therefore, you are assured that your child can have a good experience with a new interpretation of the classic old dollhouse.