Welcome to DollsWalls Living room.
The Living room is always filled with laughter and girls having fun. This is where the girls meet up every day when they return from dance classes, visits to Ruth's Pet Shop or piano lessons. May enjoys playing her guitar and even convinces Chico the Croco to join her. They make a great band! At night the girls often gather in the Living room to watch a movie and eat lots of popcorn. You can rearrange the Living Room as you like, maybe you want the couch to be placed under a window or the plants next to the couch. It is all up to you and your imagination. You can even combine this set with other sets from the Home series, and make your house even greater Look through the Magic Lens in our app and find out what's on in the Livingroom today.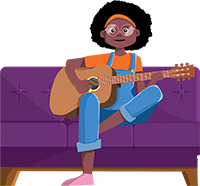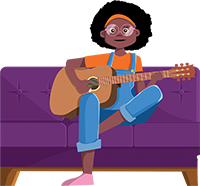 Creative toys with a modern twist
DollsWalls is basically analog toys and a reinterpretation of the old dollhouse with a modern twist. You and your child have the opportunity to explore the different rooms through the Magic Lens in our app. The Magic Lens awakens elements of the dollhouse with movement and sound!
At DollsWalls, we want to create more opportunities for children to play offline and stimulate them creatively through building and creating their own world. This activates the children's imagination and exercises their fine motor skills. It allows your child to build their own world and change it again. This allows them to create more stories as they build and play, and is different each time.
We have created the framework for the rooms, but your child creates his or her very own universe. That's the idea behind our building set, creative toys without limits. For us, it is important that your child has room to use their imagination in their play, because it develops the important, creative senses.
Additional information
Indhold

1 doll; May
1 couch
1 lounge chair
1 table
1 flower pot
8 walls to create the Living room
New innovative version of dollhouses
The idea for DollsWalls playsets came from how we played, when we were children. We built dollshouses of VHS tapes and could sit for hours creating our own universe from scratch. Building a unique dollhouse each time. all our toys could be used, from dolls to teddybears, cars and animals. Hours could pass whilst we were playing and immersed into the creative play.
This inspired us to create DollsWalls,  where imagination and creative play are in focus. There are no limits or rules – all teddybears and dolls are welcome in the DollsWalls universe.