Goodnight and sleep tight in DollsWalls Bedroom! Each night, the girls take turns to tell the others a bed time story and share how their day went. They love hanging out in the Bedroom and you will often find them chatting long after bedtime.   Use our app and use the Magic Lens to see what's happening in the bathroom.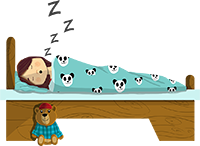 Analog toys using augmented reality
DollsWalls is basically an analog toy and a reinterpretation of the old dollhouse with a contemporary twist. You and your child have the opportunity to explore the different rooms with the included app. With augmented reality you will be able to see what Dave and the other dolls are up to. In each building set, there are walls, furniture, dolls and accessories. The child can also use other toys with the building sets, teddy bears, dolls and cars can easily be part of the game with DollsWalls as well. Find our assembly instructions in the app or on the page under 'Assembly instructions'.
Additional information
Weight
1.3 kg
Indhold

8 walls
Doll: Ida
1 bunkbed
1 bed
1 night stand
Our toys are created with focus on creative play. We've created colorful and happy rooms and dolls, which are meant to inspire creative and focused play.
Your child can play with DollsWalls alone or with friends. It can easily be combined with other toys and offers the opportunity to create an inspiring universe. DollsWalls is the perfect toys for kids age 5-10, who loves to be creative. This set is a part of our Home-series, which include Livingroom, Bathroom, Bedroom and Kitchen.