Welcome to the DollsWalls bathroom! The bathroom is an essential part of any home – even in homes for dolls. George the Fox loves taking long showers, and grabs every chance he gets to take yet another shower, cleaning himself from tip to tail. When he's done, there's usually water and bubbles everywhere. Lucky for him, the girls rarely get annoyed with his mess, he is always in such a good mood and full of fun mischief, that the extra cleaning doesn't matter to them. Use our app and use the Magic Lens to see what's happening in the bathroom.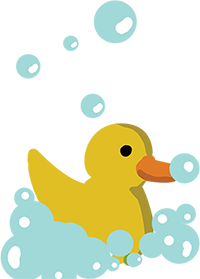 DESIGN YOUR OWN BATHROOM
How do you want to arrange the bathroom? Let your imagination take control and create your very own DollsWalls bathroom. Look through the magic lens of our app and see what happens to the Dave the bear's shirts.In our app you can read short stories from the DollsWalls universe and also research what's going on in the bathroom. Our magic lens works with AR (Augmented Reality) and provides an extra layer for all the different sets.
Additional information
Weight
1.3 kg
Indhold

3 dolls;
Dave the bear
Chico the croco
George the fox
1 shower
1 toilet
1 zink
1 washer
1 dryer
8 wall elements
DollsWalls products are designed to appeal to your childs imagination and creativity. We got the idea for the DollsWalls concept from watching our kids create dollhouses out of boxes, dvd cases ect. We wanted to create a versatile and fun way to play for children. Our building sets are easy to assemble and disassemble – and will let your child immerse themselves into creative play.