Welcome to the DollsWalls bathroom!
The bathroom is an essential part of any home – even in homes for dolls. George the Fox loves taking long showers, and grabs every chance he gets to take yet another shower, cleaning himself from tip to tail. When he's done, there's usually water and bubbles everywhere. Lucky for him, the girls rarely get annoyed with his mess, he is always in such a good mood and full of fun mischief, that the extra cleaning doesn't matter to them.
Use our app and use the magic lens to see what's happening in the bathroom.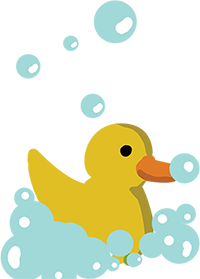 DESIGN YOUR OWN BATHROOM
How do you want to arrange the bathroom? Let your imagination take control and create your very own DollsWalls bathroom. Look through the magic lens of our app and see what happens to the Dave the bear's shirts.In our app you can read short stories from the DollsWalls universe and also research what's going on in the bathroom. Our magic lens works with AR (Augmented Reality) and provides an extra layer for all the different sets.
Additional information
Weight
1.3 kg
Indhold

3 dolls;
Dave the bear
Chico the croco
George the fox
1 shower
1 toilet
1 zink
1 washer
1 dryer
8 wall elements
[/et_pb_column][/et_pb_row]
Kreativ leg med dansk legetøj
DollsWalls er designet til at dit barn kan lege kreativt og bruge sin fantasi. Vi har udviklet konceptet på baggrund af de dukkehuslege, vi selv legede som børn. Alle rummene kan skille ad og samles igen på nye, spændende måder, når en ny leg kommer på banen. DollsWalls er sjovt både til leg alene, sammen med venner og søskende eller med forældre. 
Den kreative leg, der kalder på fantasien, er udviklende for børn i alderen 5-10 år. Her er rollelege vigtige og hjælper barnet til at udforske verden og sig selv. Børn lærer både hvordan ting fungerer, hvordan man er sammen socialt og bearbejder også rigtigt mange oplevelser gennem leg.